Taziker Industrial £2.9m revamp project at Southport Pier
Published 31st August 2017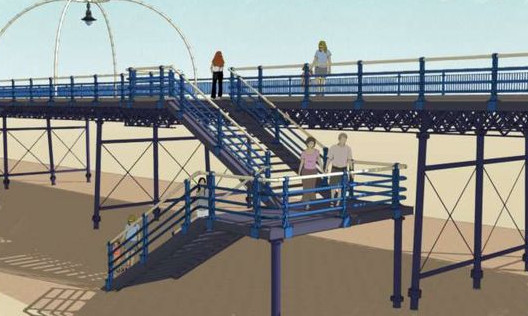 Southport Pier which is mile long structure will see a combination of repair works. Taziker Industrial is undertaking the full structural refurbishment of the existing steel structure along with scaffolding and painting.
The seafront will also become more accessible to pedestrians, as there are plans to build two staircases which will lead down to the beach.
The seafront attracts millions of visitors each year and is a key part of Sefton's economy as a listed structure.
Michael Taziker, Delivery Director said: "Southport Pier is an exciting project for Taziker Industrial. We are delighted to be working on the Grade II listed Pier and helping to preserve a structure with such historical and cultural significance"
As the pier is a vital element of Southport's Tourism Industry, public access will be maintained during the works. Our intention is to minimise the impact of our operation, ensuring the continued use of the pier during these works and for many years to come."
The funding for the project comes from the Coastal Community Fund and Sefton Council's Contingency fund.
Cllr Marion Atkinson, Sefton's Labour member for regeneration said: "We are delighted, the works on Southport Pier will truly transform the area."
Taziker's first phase of the work will be completed by December this year, with the overall project set to be completed by December 2018.