Top 5 Reasons to Choose an FRP Footbridge
Published 27th May 2021
In 2020, Taziker was chosen by Network Rail to participate in the 'NWR FRP Footbridge Innovation Programme' this aimed to develop alternative pedestrian footbridge designs utilising Fibre Reinforced Polymer (FRP) materials for use on the rail network.
Prior to this we had already designed and manufactured a 14m full-sized prototype FRP/GRP footbridge for use in remote areas, allowing us to apply the lessons learned from this prototype to Network Rail's Innovation Programme.
With this in mind, here's our top 5 reasons to choose a fibre reinforced polymer (FRP) footbridge as your next pedestrian access solution: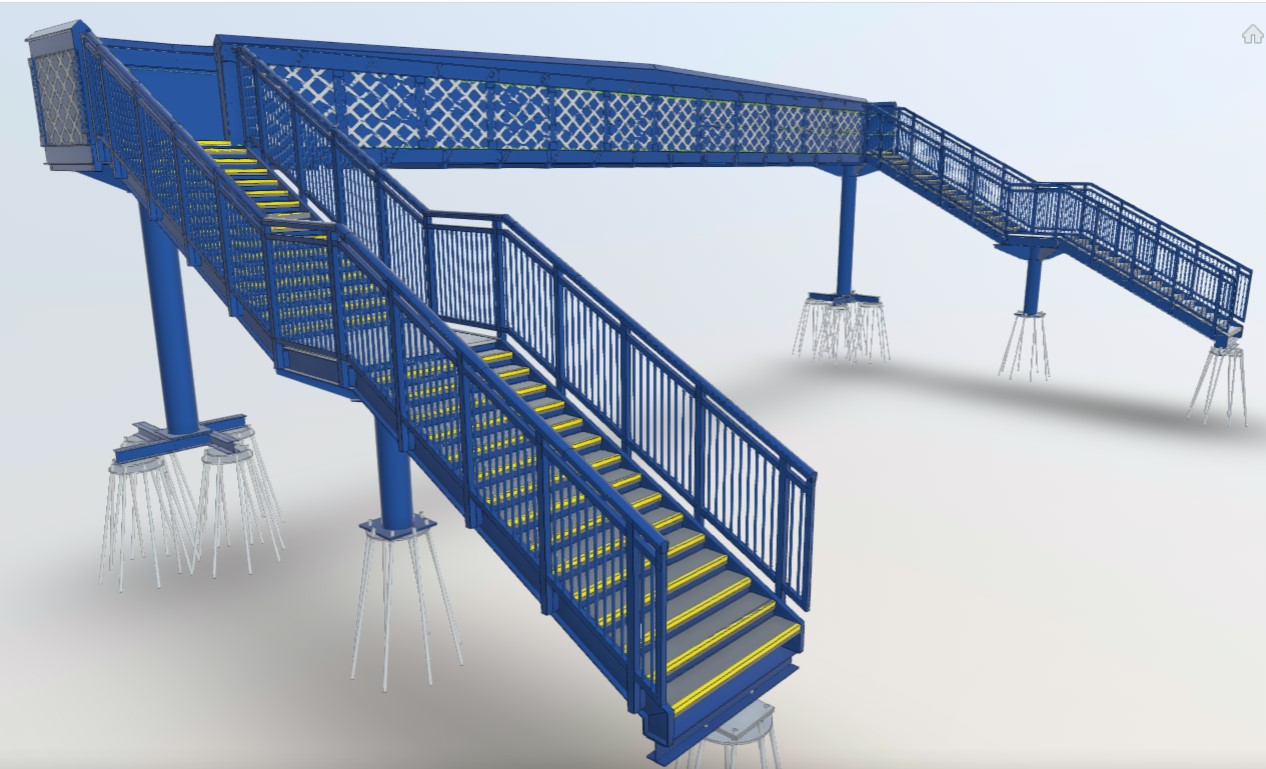 1. Using FRP or GRP is Cost Efficient
Currently the cost for Network Rail to install a footbridge ranges from £800k to £1.4m. This is not only due to the increasing cost of steel but also due to the costs of logistics, site establishment, and site access.
During the development of our FRP Footbridge Solution, we examined these issues and endeavoured to reduce or eliminate each of them. As a result, the design, manufacture, and installation of cost-efficient concrete-free foundation and FRP footbridge and stairways can be delivered by Taziker for under £400k – a massive saving of over 50 percent!
When you also factor in Fibre Reinforced Plastic will not rust like metal or rot or be infested like wood and requires virtually no maintenance over its long lifespan, further cost savings are made there too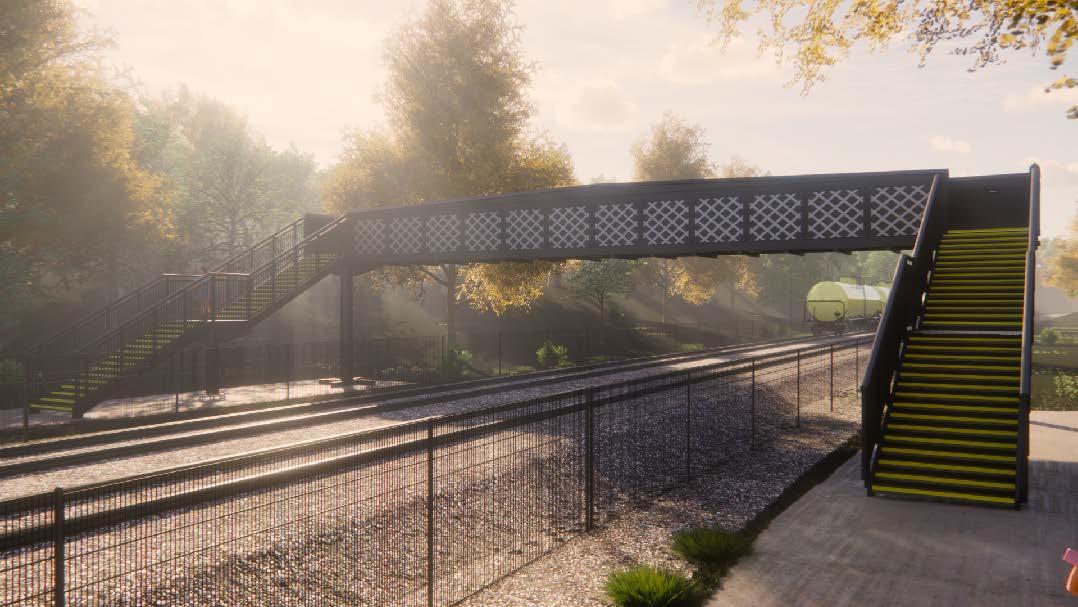 2. An FRP Footbridge is High Strength but Lightweight
Compared to metals, wood and concrete, FRP offers a very high strength-to-weight ratio.
This is due to the Pultrusion manufacturing process FRP undergoes: this sees reinforced fibres saturated in a resin bath before being converted into a solidified fibre reinforced polymer via a heated steel pultrusion die. This process results in the strong and lightweight end product.
By offering a high strength yet lightweight solution, this also allows for simple, safe, and low impact footbridge installation.
3. Environmentally Beneficial
At the production stage, FRP has a much lower carbon footprint than steel and cementitious materials. Furthermore, at the end of its lifecycle, it can be recycled as it has zero scrap value.
The environmental benefits continue at the installation stage too - as FRP is a lower weight than comparable materials, it reduces the overall carbon footprint including its transportation to site.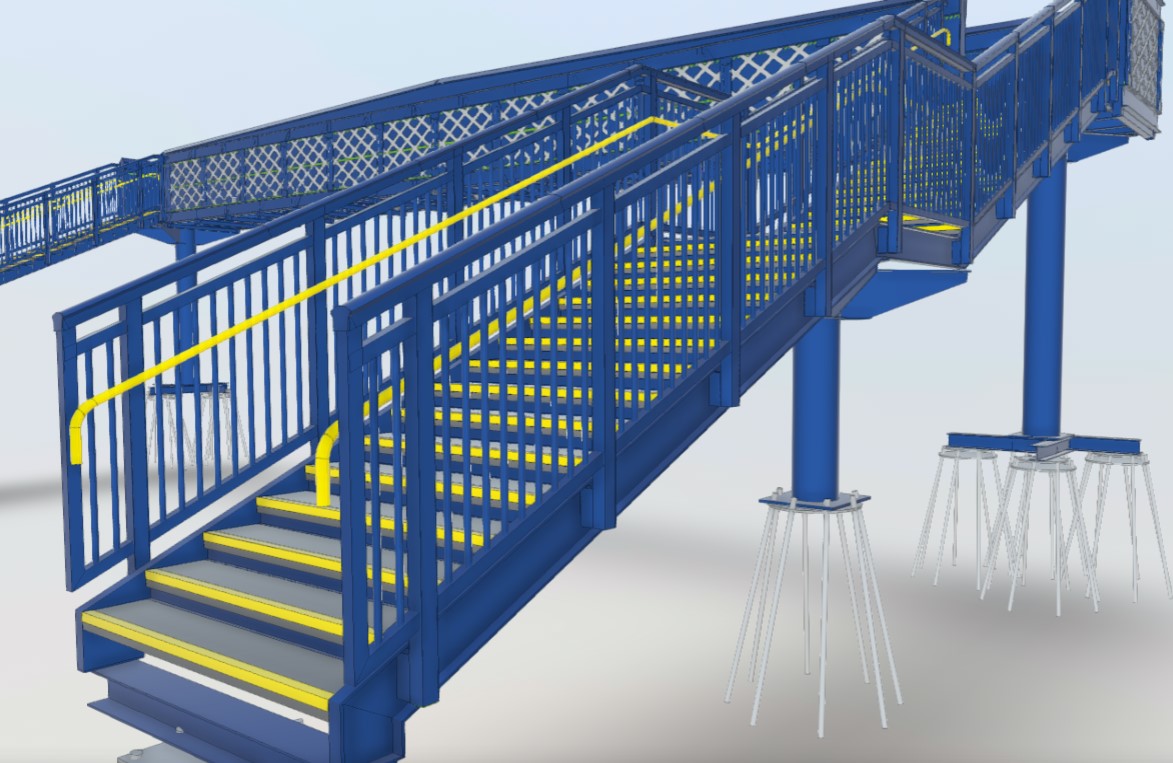 4. Guaranteed Quality
At the design stage, all drawings, fabrication details and NC data are produced using Tekla Structures 3D Modelling Package. Add-on software packages Rhino and Grasshopper can also be used to produce a simplified model to ensure the most efficient design possible for the footbridge.
At the build stage, all FRP materials are UK sourced to ensure consistent quality and availability. Taziker trace incoming raw materials of glass and resin through to finished product, with each cut profile length noting the date, shift and operative details. This is kept on file to provide full traceability. All profiles are produced to EN13706 E23 standard under ISO9001 certificated and controlled processes.
5. Safety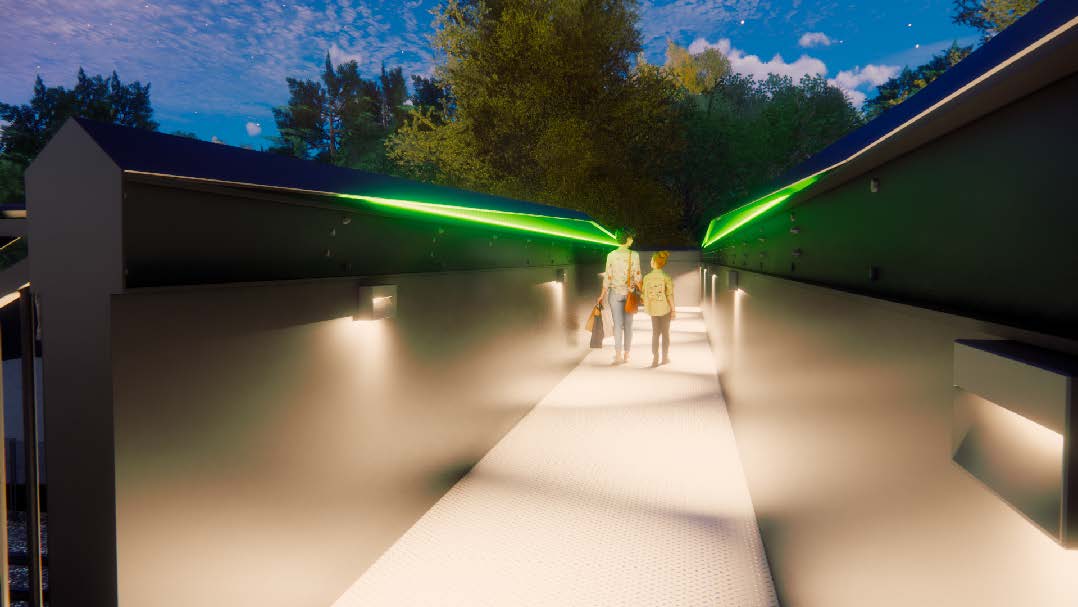 Not only is Fibre Reinforced Polymer high strength and impact resistant, it is also fire retardant to BS 476 Part 7 Class 1 for assurance of safety. The anti-slip panels installed on the FRP footbridge are also safety guaranteed for 30 years. A bonus for the pedestrians using the footbridge.
FRP also offers low electrical and thermal conductivity properties and high dielectric capability meaning it can function as an electrical insulator and prevent electric waves passing through.
As there is a reduced dead load within a FRP footbridge, it also allows for alternative options regarding the foundations of the structure. Rapidroot is a perfect alternative to concrete as it uses a hybrid root pile / micropile solution that can be deployed in any penetrable soil.
A Complete FRP Footbridge Solution from Taziker
We offer a complete solution which includes not only the design, manufacture, and installation of a new FRP/GRP footbridge, but also the design and installation of cost efficient concrete free foundations.
Our FRP footbridge designs are available in the following lengths, all 2m wide:
12m to 20m clear span
21m to 28m clear span
28m to 35m clear span
If you require a public access, pedestrian footbridge with less associated costs and reduced carbon footprint – get in touch!