Supporting and Celebrating World Environment Day
Published 4th June 2021
What is World Environment Day?
World Environment Day is celebrated every year on 5th of June. This year's theme is Reimagine, Recreate, Restore, but what does this mean? As our world's ecosystems continue to degrade at an alarming speed, we need to join together to restore the damage that has been caused to our planet. At Taziker we are changing the way we carry out our works - assessing not just how we can avoid any negative impacts on the environments that we work in, but how we can make lasting positive change in these ecosystems and the biodiversity that are found in them.

This year's theme has been selected as we welcome ourselves into the UN Decade on Ecosystem Restoration; the ten years in which there has never been such an urgent need to prevent, halt and reverse the negative damage to the ecosystems on the land and in the oceans.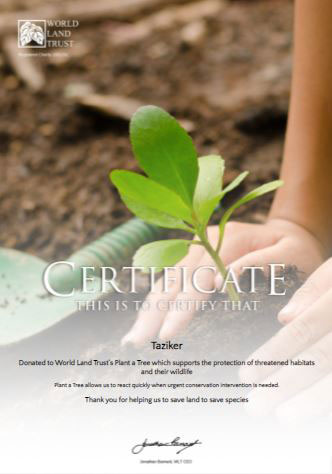 Ecosystem Restoration – Planting Trees
This year the host country Pakistan is celebrating planting one billion trees as part of its Ten Billion Tree Tsunami Project. In honour of this achievement and in support of this year's World Environment Day, Taziker has donated to the World Land Trust's (WLT) Plant a Tree fund. The WLT are an international conservation charity that protect the world's most significant and threatened habitats, helping to fund the creation of reserves, and providing permanent protection. Donating one hundred pounds is the equivalent of planting 20 trees: covering the seed collection, growing, planting and protection. Or as part of the Buy an Acre programme, donations allow the WLT to purchase and protect one acre of habitat.
The WLT's reforestation programme ensures that native species are planted which support the creation of wildlife-rich habitats and help to tackle climate change through storing carbon. They plant trees in locations that reconnect forests, as well-connected forests are more resilient to the impacts of climate change. Our donation allows the WLT to nurture the planted seedlings, enhancing tree survival rates.
Reforestation is one of the main ecosystem restoration methods and we're pleased to get involved with this important initiative and give our support to World Environment Day.
Our Contribution to Protecting the UK's Ecosystems
Taziker often work in environmentally designated and protected areas and therefore it is imperative that we follow strict standards to ensure all ecosystems are untouched.
We conduct ecological surveys to ensure all species are protected prior to and during works.
We carefully rehome species and set up boundaries to ensure they remain unaffected by our works.
We plant native hedgerows and woodlands.
We leave vegetation and branches behind in appropriate locations to create habitats for small creatures.
We are in the process of creating a Biodiversity Action Plan in which we will set key targets which will allow us to measure our contribution to the UK's biodiversity.
World Environmental Day might just be one day, but protecting and restoring the environment is a responsibility for everyone, every day. We'll continue to do our best during our projects to contribute to the protection of the UK's ecosystems.