Taziker Complete Installation of New Heywood Footbridge
Published 15th July 2020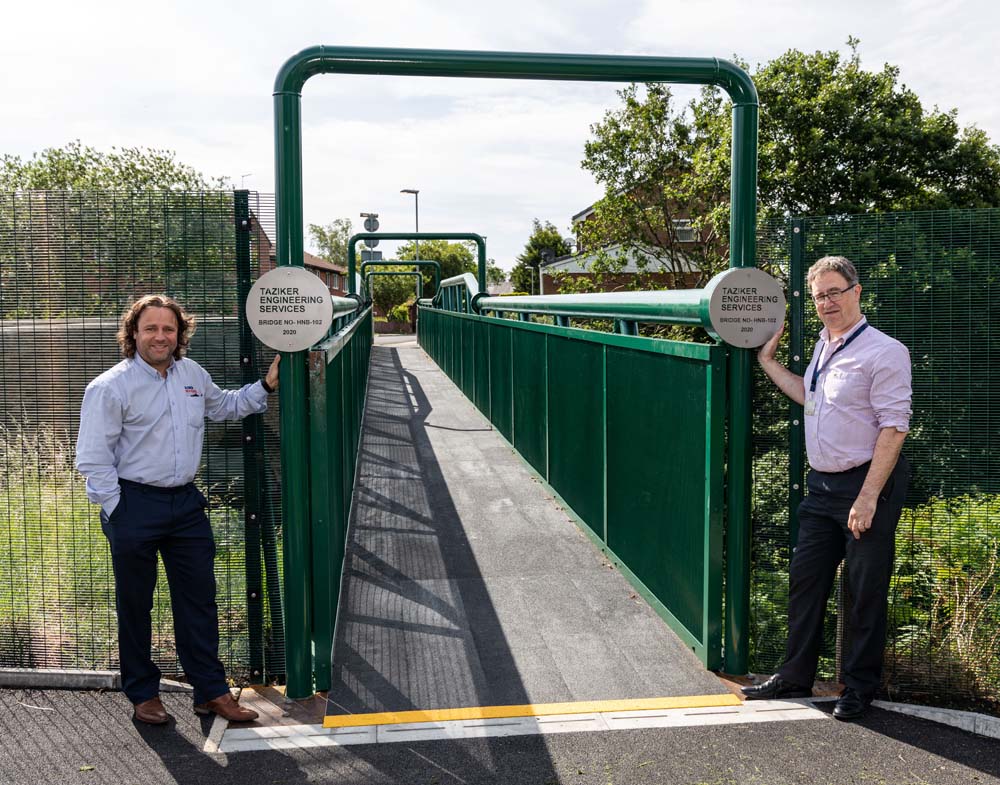 Taziker has completed a local project for Rochdale Borough Council to design, build and install a new footbridge over the East Lancashire Railway.
Located at Schofield Street in Heywood, Greater Manchester, the new footbridge was constructed three miles away at Taziker's specialist fabrication facility at Birch Industrial Estate. The project was delivered by Taziker Engineering Services division and demonstrates their ability to design, build and install a custom-made footbridge.
The previous footbridge was deemed unsafe and closed by Rochdale Borough Council twelve months ago, so Taziker were appointed earlier this year to provide a new one. With the footbridge closed to pedestrians, the adjacent road-bridge was closed to vehicles to provide pedestrians with a safe way to cross the railway line. Full use of both the road and footbridge will be a welcome return to normality for local residents.
Fabricated in three sections for efficient transportation and erection, the new footbridge is lighter, stronger and safer. A new GRP deck, replacing the old concrete version, means the footbridge is lighter with increased durability and reduced carbon footprint. The parapets have been strengthened to provide safer access across the bridge and a steam deflector plate added to provide protection to the deck from the steam trains passing underneath.
Additional anti-suicide safety measures have also been considered on this project, with a barrier added to block unsafe access underneath the bridge.
Taziker, a multi-discipline engineering and construction contractor, has a strong history in bridge construction, maintenance and repairs having worked on many historic structures such as Iron Bridge and Royal Albert bridge over the years. With the addition of the Heywood facility and the engineering division, Taziker are now able to offer full bespoke bridge construction.
Jarrod Hulme, Taziker's Managing Director for Engineering Services said, "Taziker Engineering Services has built great relationships with those involved in the project at Rochdale Borough Council and we've collaborated effectively every step of the way. We're now in the position to offer custom-build footbridges to clients requirements going forward."
Andy Collins, Team Leader Bridges, Structures and Highways Maintenance for Rochdale Borough Council commented, "The council are pleased to have this project completed for residents to enjoy the new, safer footbridge. It's been a brilliant project to be involved in, and I'd definitely recommend Taziker for projects of this type."
The East Lancashire Railway is a 12 and a ½ mile heritage railway line which runs between Heywood and Rawtenstall, built in the 19th century. Today its run by volunteers and continues to develop and expand, providing many events and activities throughout the year.